Onto the Next Big Thing At E3. This year sees a few new players in the press conference lineup – Square Enix, Bethesda and a special PC Gaming show.
Bethesda have good reason to host their own show this year, with a slew of new entries to add to their repertoire. I think the buzz and anticipation could easily be attributed to their recent announcement of Fallout 4.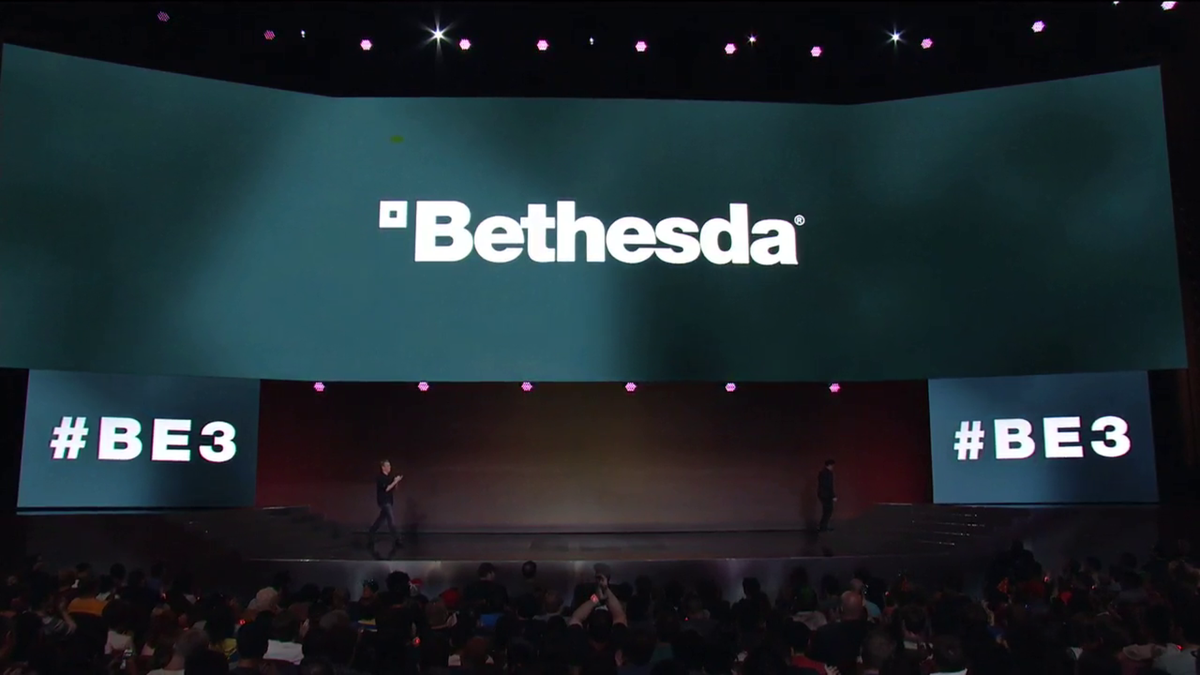 First up we were treated to some gameplay footage of Doom in all it's ultra-gory, hyper-violent nature.
While it looks spectacular, I can't help but feel like it's falling a little into the generic shooter style that's tried and tested. Bethesda did manage to introduce the ability to create your own maps in multiplayer, however it will be interesting to see what Doom brings to the table that's a little different.
Bethesda then took the opportunity to show off their new online service Bethesda.net, similar to Blizzards Battle.net, bringing together all their IP's under one umbrella. This was then used to showcase their new MOBA Battlecry, a new IP that Bethesda are accepting sign ups for the Beta version later in the year. 
Next up was a taste of Dishonored 2. I never played the first game, but the sequel looks…okay. The first game was also announced as a definitive edition for Xbox One, and PS4, to be released later this year.
It's good to note that with these new announcements no mention has been made about PS3 or X360 editions. I hope this will be a trend over the course of E3, with publishers making the effort to move away from last gen.
A trailer was then shown for The Elder Scrolls Online: Tamriel Unlimited, Bethesda's new MMO that was released this past week. While I don't really get the time to invest in an MMO (I've been meaning to get back to World Of Warcaft for months now,) the game looks spectacular. On top of that was the announcement of The Elder Scrolls Legends, a strategy card game set for release on PC and iPad.
After Bethesda's attempt at trolling a packed Hollywood theater, they then brought out Fallout game director Todd Howard, who seemed like a lovely chap, who then took us through the hypetrain that is Fallout 4…
The studio has really focused on developing the best quality game they could make – every little detail seems to have been tirelessly worked on and improved, the artwork looks amazing, and a few new features took the crowd by surprise (jetpacks and helicopters, oh my!)
The environment, guns, and apparel can be completely customized to your taste, and can even create your own settlements. It looks like an amazing open world experience that Bethesda has clearly put their best work into, and the kicker at the end was the announcement of a release date of November 10 this year. A collectors edition was also announced, featuring a full sized Pip Boy, which you can put an iPhone into, and will even have its own app.
One final thing announced that was small compared to the main event (but just as exciting) was a new mobile game in the Fallout franchise – Fallout Shelter. The gameplay style is similar to that of mobile games such as Tiny tower, and also has a little bit of The Sims influence, where you are in charge of creating and maintaining your very own vault.
You can even give your Vault a number – sorry, Metal fans, this one is already taken…
Fallout Shelter was available immediately after the conference on the iOS App Store, with an Android version being made available further down the track. It's a nice little game, one to widdle away whilst on a train ride – the good news is it doesn't need an internet connection, and the micro transactions are minimal, not affecting the gameplay in any way.
So that was Bethesda's conference, and at the end all those streaming the event at home were made to feel incredibly jealous, with the company giving all attendees at the Dolby Theater in Hollywood a set of Amiibo-style figures on the way out. Sadly, some of these are already up on eBay for around $400 Australian dollars a set.
Oh well, I guess the vibe that Bethesda set for the whole of E3 will be enough for those watching. No, really.